Cam Jansen Series Collection (Books 1-33)
Regular price

$121.25 USD

Sale price

$99.18 USD

Unit price

per
Cam Jansen 33 Mystery Book Collection Set
Includes the following books:
The Mystery of the Stolen Diamonds
The Mystery of the UFO
The Mystery of the Dinosaur Bones
The Mystery of the Television Dog
The Mystery of the Gold Coin
The Mystery of the Babe Ruth Baseball
The Mystery of the Circus Clown
The Mystery of the Monster Movie
The Mystery of the Carnival Prize
The Mystery at the Monkey House
The Mystery of the Stolen Corn Popper
The Mystery of Flight 54
The Mystery at the Haunted House
The Chocolate Fudge Mystery
The Triceratops Pops Mystery
The Ghostly Mystery
The Scary Snake Mystery
The Catnapping Mystery
The Barking Treasure Mystery
The Birthday Mystery
The School Play Mystery
The First Day of School Mystery
The Tennis Tropy Mystery
The Snowy Day Mystery
The Valentine Baby Mystery
The Secret Service Mystery
The Mystery Writer Mystery
The Green School Mystery 
The Basketball Mystery
The Wedding Cake Mystery 
The Graduation Day Mystery
The Millionaire Mystery
The Spaghetti Max Mystery
Perfect for beginning chapter book readers, the Cam Jansen series continues to be a bestseller after over thirty years. Each mystery features Cam—the fifth grade sleuth with the photographic memory—who solves the case with the help of her best friend, Eric. Book 33: Mysteries follow super-sleuth Cam Jansen everywhere she goes, even to the airport. Cam and Eric go with her father to the airport to meet "Spaghetti" Max, her father's best friend from childhood. While they're looking for him, a distressed traveler asks Cam to help him find his missing daughter. But what use is Cam's photographic memory if she has never seen the missing girl? And where is Spaghetti Max? Can Cam solve this double mystery?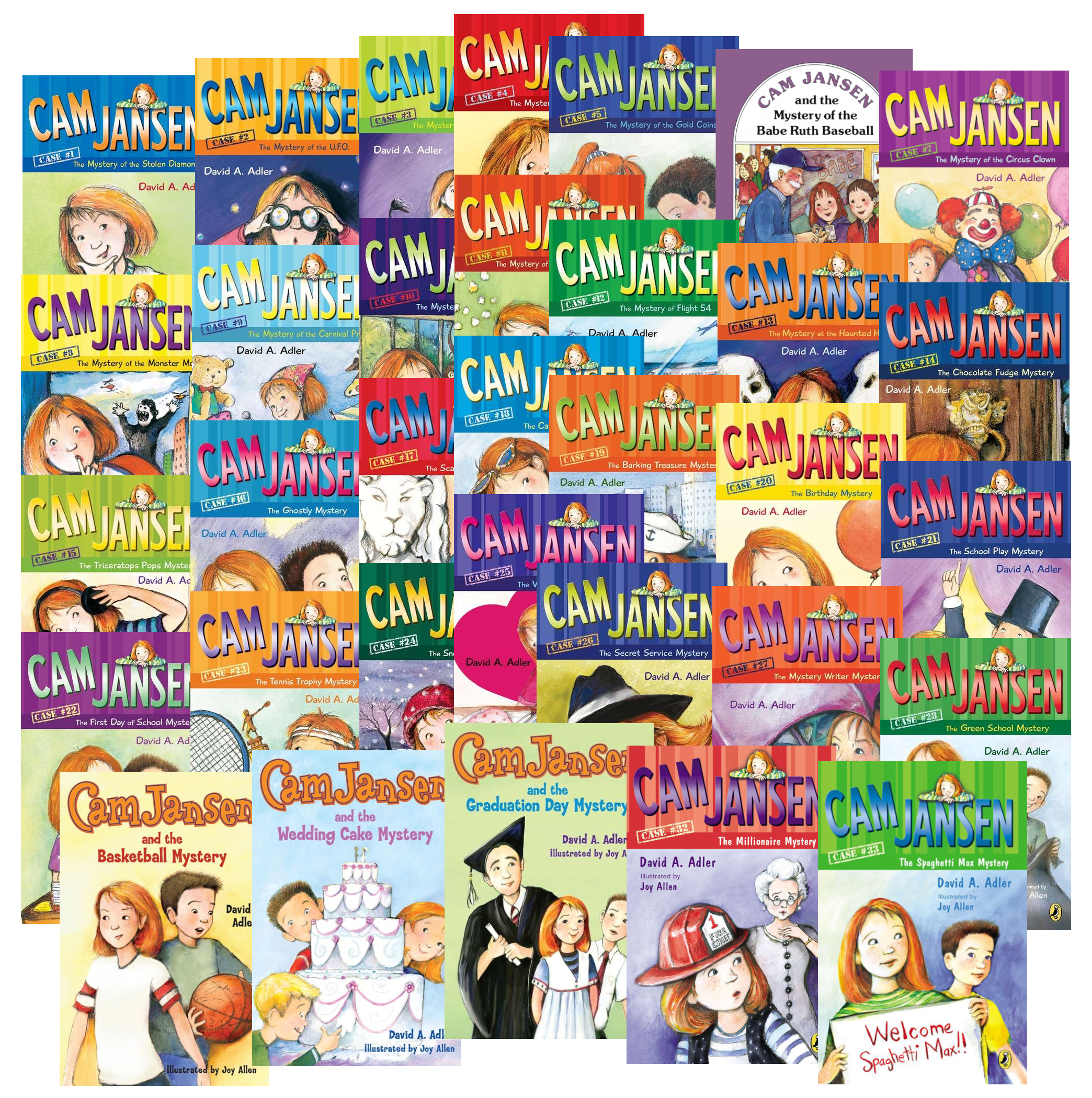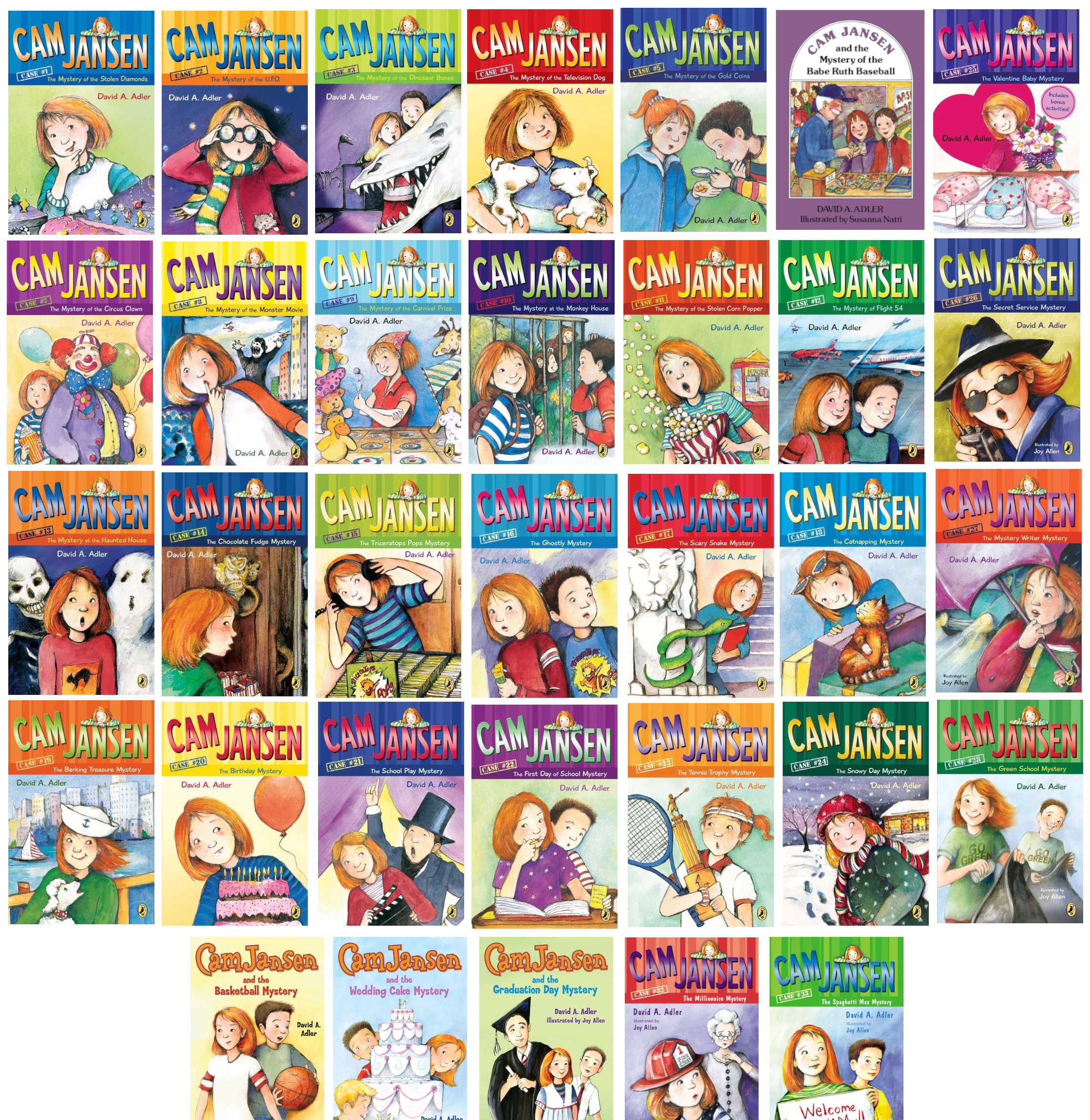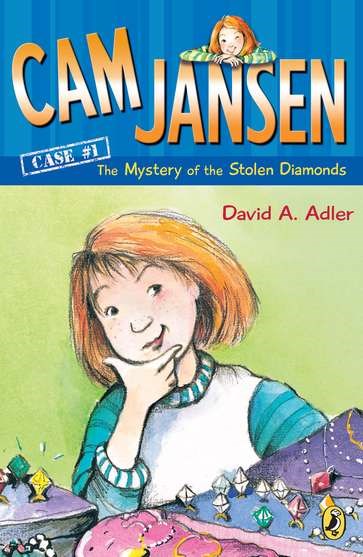 Penguin Random House
Share