Poppleton Set of 5 by Cynthia Rylant
Regular price

Sale price

$23.50 USD

Unit price

per
Poppleton Set of 5 by Cynthia Rylant: Poppleton, Poppleton Everyday, Poppleton and Friends, In Spring, In Winter
This set includes the following 5 paperback books: Poppleton, Poppleton and Friends, Poppleton Everyday, Poppleton in Spring, and Poppleton in Winter. Not a boxed set.
About the Author: As a child in West Virginia, Cynthia Rylant never dreamed of becoming a writer. One night, inspired by the Southern writer James Agee, she sat down and wrote When I Was Young in the Mountains. Named a Caldecott Honor Book and an ALA Notable Book, it was an instant success.
Poppleton: The new pig in town, pleasingly plump Poppleton, steps out in this first volume of an easy-to-read series. His ongoing adventures can be read aloud as picture books or read independently by beginning readers. Poppleton decides he doesn't want to be a city pig anymore so he moves to a small town and meets new friends. He goes to the library. When he gets sick, his friend Fillmore takes care of him.
Poppleton and Friends: In three wonderful stories from Newbery Medalist Rylant, Poppleton rides to the beach with his mouse friend, Hudson, and a group of older ladies. He has a dry skin problem. And, he tries to live to be 100.
Poppleton Everyday: Three delightful new tales about Poppleton for beginning readers, with humorous illustrations by a best-selling artist Mark Teague, in which Poppleton gets sick while stargazing, goes in search of a new bed, and finds sailing anything but relaxing.
Poppleton in Spring: In this easy-to-read chapter book, Poppleton the pig charms young readers with his quirky adventures, whimsical ideas, and engaging community of friends! In three wonderful springtime stories, Poppleton tries his hand at spring cleaning, riding a bike, and staying up all night in his new tent.
Poppleton in Winter: Snowflakes are in the air, and winter is here at last! Poppleton makes a new friend, sculpts a bust of Cherry Sue, and gets a wintry birthday surprise in these three witty, beautifully illustrated stories.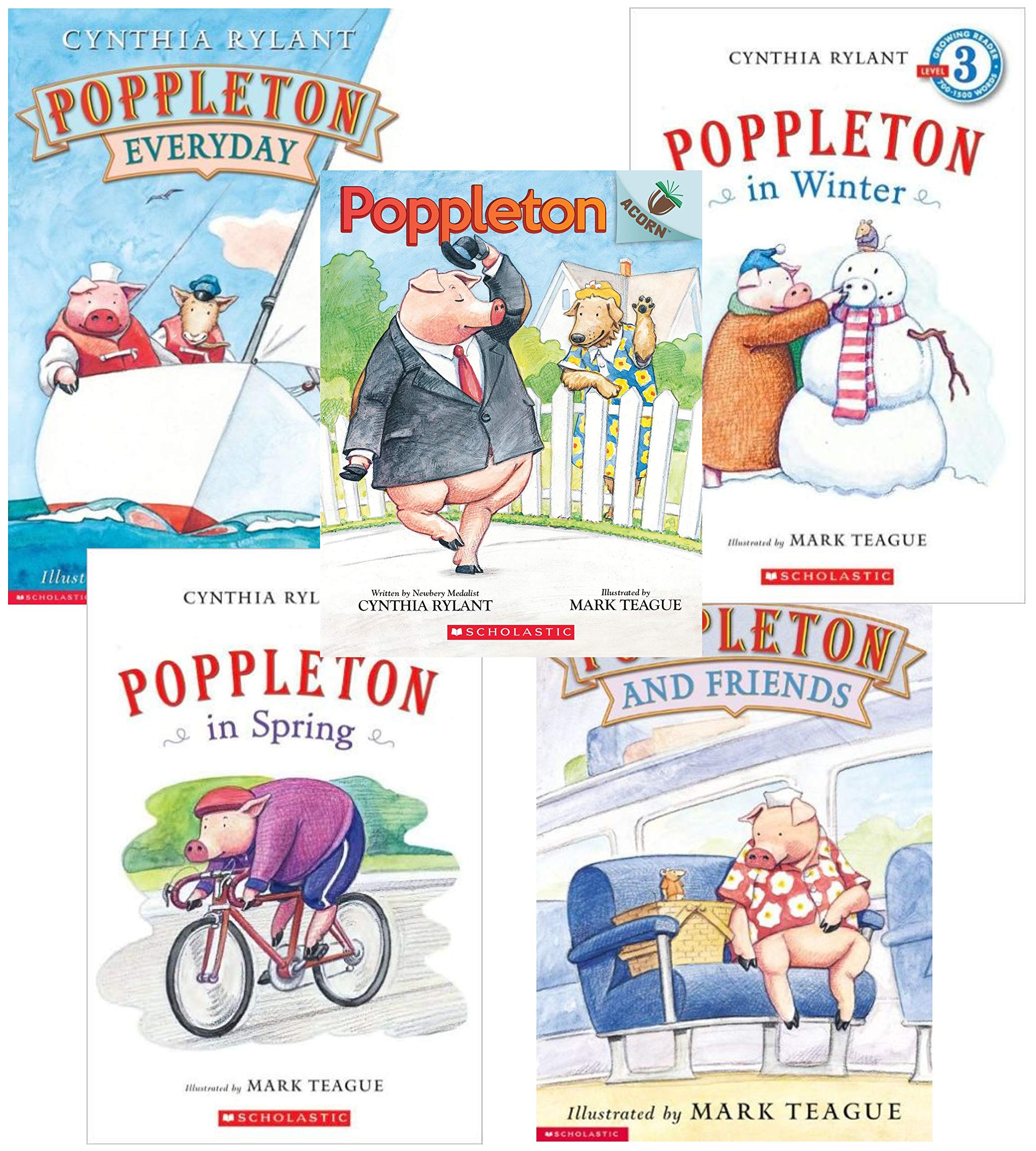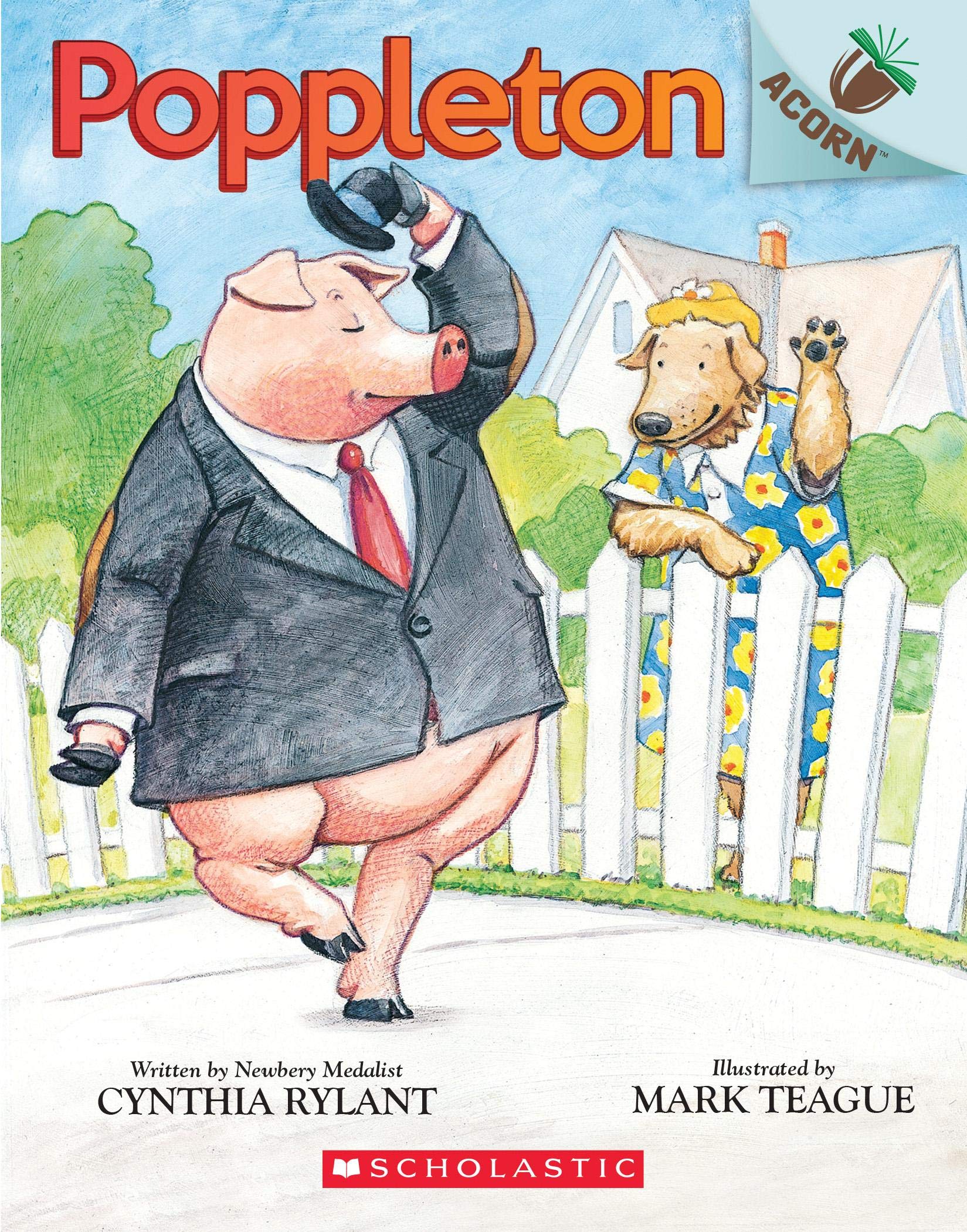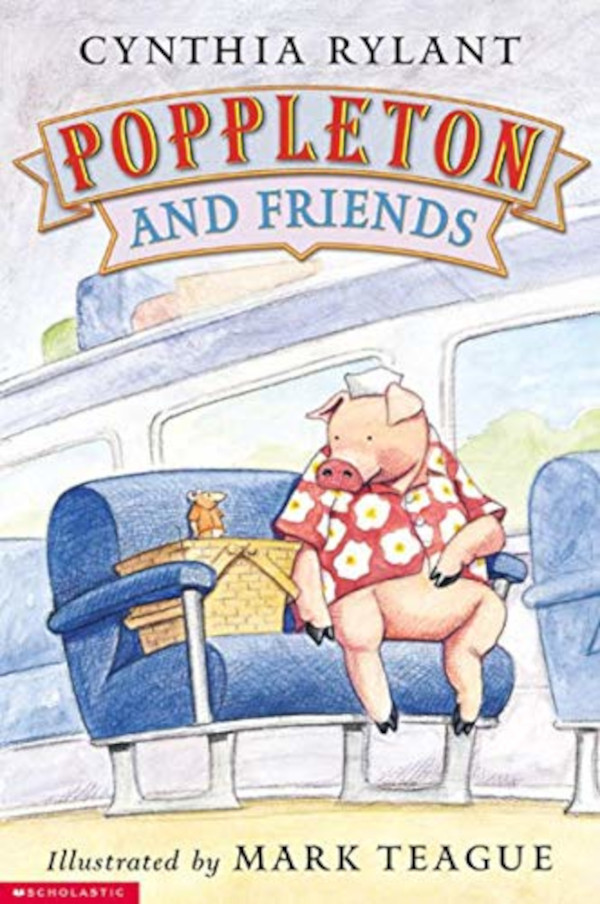 Scholastic
Share